The inspirations for my books and short stories are fairy tales and the supernatural.
I write weekend-reads that have been described as "fun, inventive, and unpredictable."
I'm an indie author but not a new writer.
Jaclyn's Ghost: Supernatural Mystery, Romantic Comedy, Can this diva solve her own murder? $2.99 ebook
Passage to Queen Mesentia: Parnanormal Egyptian Mystery, a mysterious stranger and a quest for an ancient Egyptian artifact. $1.99 ebook
Supernatural Fairy Tales: a collection of paranormal, fairy tale inspired short stories. Warning: They don't always have a happy ending... .99 cent ebook
Silverweed: Young Adult, werewolf, LIttle Red Riding Hood inspired paranormal fantasy. $2.99 ebook - $7.99 paperback
The Princes of Tangleforest: Contemporary Young Adult, Rapunzel inspired, suitable for 12 and over. .99 cent ebook
Ninja vs Pirates: illustrated by Dorlana's 8-year-old son, Dean. Children's Book. $5.99 paperback (coming soon - ebook)
Coming Soon: a new YA supernatural fairy tale inspired by Hansel and Gretal
Werewolf young adult Dark Fantasy inspired by Little Red Riding Hood
Once upon a time Granny was attacked by a werewolf. Eighteen years later her grandson, Aiden Young, arrives in Indiana for his aunt's funeral, and his unfortunate discovery of the family secret leads to a fatal mistake. Before the weekend is over, he's trapped by a blizzard along with his superstitious cousin, Diesel, and Scarlet, Diesel's manipulative girlfriend. In his grandmother's spooky, old house in the middle of the woods, the teen faces life and death decisions: who can be trusted, and who needs to be saved? However, he must first figure out what the true monster is… werewolf or fear. Because in this Little Red Riding Hood-inspired supernatural fairy tale, the roles of prey and predator become interchangeable.
Silverweed eBook
Jaclyn's Ghost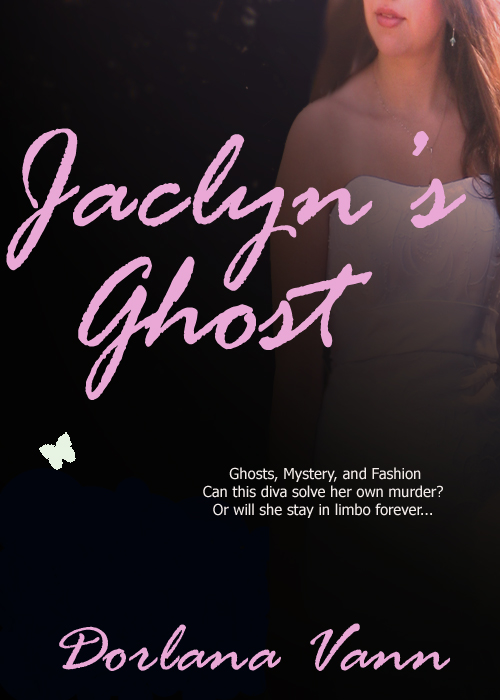 Ghosts, Mystery, and Fashion.
Can this diva solve her own murder, or will she be stuck in limbo forever?


After recovering from the shock of seeing her own dead body, (still dressed to kill from last night's party) fashion model, Jaclyn Jade, discovers she's a ghost with a choice. She can either immediately go back to Hell, do nothing and stay in limbo, or find the reason she fell short of grace and advance to Heaven.

Because she was murdered, Jaclyn hopes that finding her killer will unravel this mystery. With the help of a timid closet-psychic who can speak to the dead, and a handsome, yet arrogant, ghost of a man from the roaring 20s, her search for answers initiates a quirky journey of self-discovery. Personalities, eras, and worlds collide as this mismatched trio race against time to solve the mystery of Jaclyn's Ghost.