Memories of 9/11!
http://pageonelit.com/Tragedy/ClairePowerMurphy.html



In the early seventies I lived in the northern part of Staten Island. One year I had a pupil in my class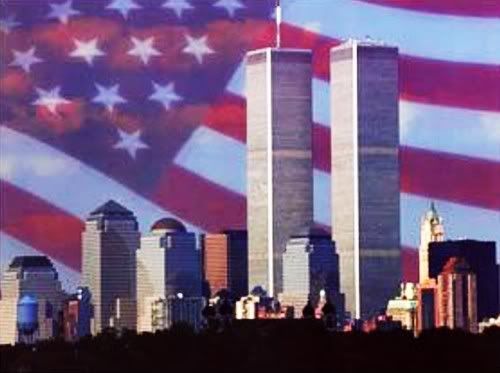 whose Dad was an engineer for what was to become known as The World Trade Center. From an upstairs room of my Tudor style home I was able to view lower Manhattan where the Twin Towers were being erected. Over the years I watched them rise higher and higher until they almost touched the sky!
We took the buildings for granted – a natural landmark. I remember spending a memorable evening with my son, Charlie, at "Windows on the World" restaurant as we proudly over-looked the city.
The years passed and I became a volunteer at Landmark Education whose Manhattan location was at 38th Street and Fifth Avenue – across from Lord and Taylor's. Following in my footsteps was my daughter, Laurie, who was such an industrious volunteer that she helped the company move to a new site – the whole 15th floor of Tower One. It was to be the focal point of the company which at that time had offices in 86 major cities of the world. Laurie was quickly offered a job with security where in the lobby, with a team of assistants, she would screen all leaders, participants, and guests prior to allowing them to proceed to the bank of elevators. (This is the same lobby where we see video tapes of the firemen assembled on 911!)
Being so effective Laurie was quickly advanced to a position 'upstairs' as the financial officer. Laurie worked very hard as evidenced by an evening when we had supper at the adjoining Marriott Hotel. (I have kept the receipt through the years). She left quickly saying she had to rush back to her job. It being a beautiful early September evening, I was drawn by the music eminating from the courtyard between all of the buildings. People were joyful and some were even dancing. It was a delightful experience! (Incidentally the Marriott went down with Tower One.)
On the evening of 9/10/01 Laurie worked late and was tired. She figured she could complete her tasks the following morning. She was exiting the lobby of Tower One when something told her to go back upstairs and forward the day's financial data to World Headquarters in San Francisco which fortunately she did do.
On the morning of 911, having just retired from my teaching job, I was happy to be able to "sleep-in". All of a sudden I heard the clang of many fire engines as they passed by. I wondered what all the commotion could be about. And then came the call from my son that a plane had hit The World Trade Center. I screamed my daughter's name and turned on the TV. Knowing what an industrious worker she was and that she always arrived to work early, I was certain that she would be in Tower One and would remain in the building as the occupants were being advised to do. It was a most agonizing time and certainly not the first time my precious daughter's life was in danger. I didn't know what to do. Being a new Christian I called my Pastor who said, "Let's pray". When finished I was calmer which would bode well for the direction I would need to offer my daughter.
Meanwhile, my son, Charlie, was trying to get into the city on his motorcycle – to rescue his sister. I said, "Charlie – you would go into that?" He said, "In a heartbeat, Ma!" The police were not letting anyone into the city. He was stopped at the New Jersey side of The Outerbridge.
Laurie commuted daily to her job from Jersey City on the Path train which ran right under the WTC. On the morning of 911 she was LATE (only the second time in her career). When Laurie arrived at the train station she rushed to get on a train Halfway under the Hudson River Train Master Michael Moran announced, " The train is being diverted to the uptown tunnel – due to a plane hitting the World Trade Center."
Not wanting to be any later, Laurie exited at the first station which was Cortland Street
(which was to become the most demolished of all of the impacted subway stations). She couldn't understand why so many people were coming down the stairs into the station; she felt like a salmon swimming upstream. (The people in the street knew the least about what was happening). Laurie hopped on a bus headed toward the WTC. The bus driver was upset that the police kept holding up his progress and she was too – just wanting to get to work. She noticed the fire and many fire engines but still had not a clue of the severity of the situation. Finally, the bus could go no further. Something told Laurie to tell the bus driver to turn the bus around and go the other way. As he turned, many people got on the bus so that there was standing room only. FIVE MINUTES LATER TOWER TWO CAME DOWN! (At best Laurie and those bus riders would have been in the clouds of debris as they ran from the scene.)
The bus driver left the passengers off at 14th Street and charged noone. Cell phones weren't working and there were long lines at phone booths. Finally, Laurie got to place a call and who do you think she called first?
The hour seemed like an eternity. I had not a clue what was happening with my beloved daughter. Finally the call came, "Ma, I'm OK, but I don't know where I am."
I wondered why that was the case – but fortunately I said nothing of my astonishment as I
now realize that the events could cause such a reaction. I told Laurie to hop a bus, take a subway, or hail a cab. She said, "You've got to be kidding, Ma". (Public transportation was halted and empty cabs were exceedingly scarce). So I asked the good Lord to help me steer Laurie correctly. Not wanting to alarm her that the towers had come down, I said, "Start walking north – toward Penn Station (34th Street) and then you can get a train home to New Jersey. Penn Station was closed. So I said, "Keep walking north to The Port Authority Terminal where you may catch a bus to New Jersey". At that moment my policeman friend stopped by and said, "Don't let her go in there – it can be a target!" So I said, keep walking north and go to your alma mater, LaGuardia High School of Music and Art and the Performing Arts (on 66th Street behind Lincoln Center). They'll remember you and shelter you. Meanwhile Landmark was accounting for the whereabouts of all of its employees and was able to ascertain that all were OK except for Laurie who was missing. Being educators in communication Landmark put out an all points alert to all staff and students to be on the lookout for Laurie. Sure enough a couple who had taken Landmark courses spotted Laurie in the street and took her to their apartment. She was then transferred to another apartment in Midtown Manhattan.
I was happy that Laurie was now safe. What I didn't know at the time was that the smell of smoke in midtown was very pungent. Also, the roar of fire engines, ambulances, and police cars continually pierced the night air.
Speaking of fire engines – those early morning fire engines passing by were those of The Elite 5 – the first responders. 11 firemen and many engines never returned. The family of firefighters was devasted as we neighbors placed wreaths and flowers outside the firehouse for months. John Bergin, whose wife taught with me, was one of the bravest who never returned. He often worked the night shift so that he could accompany his son's class with us on trips. I taught his daughter Social Studies. They were a lovely typical middle class Staten Island family. Sadly, Staten Island lost more people on 911 than anywhere else.
Meanwhile, my friend Mike and I went down to the Staten Island ferry terminal where we watched the last ferry arrive. A triage center had been set up in the new minor league ballfield. The paramedics were very frustrated as they had few survivors to treat!
Mike and I then joined many who watched the fires burning. They were to burn for many weeks to come!
Memories of the evening of 911 are most vivid. My son managed to get to see me at my Staten Island home. The woman neighbor on my right had spent hours trying to get home from her job in Brooklyn. When she approached the front stairs of her house she lay across them and cried unconsolably. Even her husband couldn't calm her. She had watched events unfold from across the East River. When my Head Nurse neighbor to the left returned from the scene she had remarkable observations to share. She painted a very bleak picture with few survivors. She said that the firemen were picking up heads. She also said that the water in the NYC reservoirs was being checked hourly. When hearing of my daughter's location she advised that Laurie should get out of the city.
In early September there was a crew working across the street from my home – installing a new sidewalk. After 911 when they quit work they would go to "Ground Zero" to claw at the rubble.with their bare hands – Amazing!
The next morning Laurie called sharing that grateful Landmark students had offered temporary office space and that she would be retuning to work THAT morning. "WHAT?" Against all my protestations that's exactly what she did. Being a real successful up-and-comer Laurie thought she could do anything. It would be weeks of laboring to attempt to re-establish a vital business.
The next evening Laurie finally managed to make it to my home on Staten Island.
Laurie had no work building to which she was accustomed, no office, no desk, no computer and no bank book. (Her bank had gone down with the WTC.) I checked her out the way a mother would and commented, "If that's all that's wrong" – meaning her cut and blistered feet from doing all that walking in heels. What I didn't realize was that there was suppressed psychological damage. It would be five years before memories of that day surfaced! I guess I must have some buried anxiety too as I'm only NOW – seven yeas later sharing my story.
Mike and I spent the next few days at Ground Zero passing out tracks of warning and love. The people were most receptive! That weekend the churches were filled to over-flowing.
Once a week after work gutsy Laurie would take a train from mid-town to 14th Street
where subways were halted and then walk the rest of the way down to the Staten Island ferry just to spend some time with me at a bible study. The walk was dark and there were only national guardsmen in the area.
When I visited the parking garage where I had parked my car just a few days prior to 911 I asked the attendants how it had been for them. They said all of the cars in the facility had been condemmed. Worse yet they shared that they had watched 20 people jump.
The weeks went by as Laurie valiantly attempted to restore a business. When she finally listened to me and gave up, she requested assistance from Landmark's World Headquarters in San Francisco. A young computer geek guided her every step of the way by telephone – across the country. He is now my son-in-law!
There are many as yet untold tales of heart, bravery, and love attached to the events of 911. We must always remember that no matter how dire a circumstance seems, God is always in control!